Needed Back Surgery – Amazing Outcome
Philadelphia Eagles Player finally gets Relief with BiomagScience Back Therapy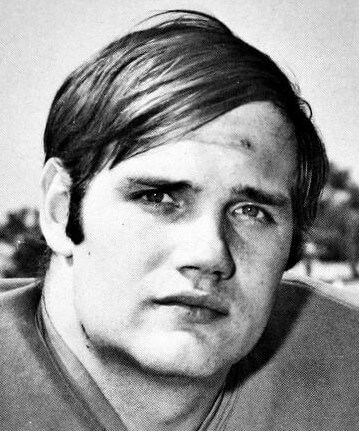 "I cannot begin to tell how much pain I have been in for years after playing 13 years at the Veteran Stadium AstroTurf.
Football is a physical sport but when I was diagnosed with severe spinal stenosis of L-4, L-5, I have tried everything from PT to hanging upside down, and countless other devices.
I could not drive or sit for more than a half an hour!
BiomagScience has changed my life! I cannot believe the relief after just a couple weeks! I wear my magnets 24-7, except when I am in the water.
How do I spell relief? BiomagScience!"
John Bunting
Phila Eagles 1972-82
Phila Stars, (USFL) 1983-84
Comment from Peter Kulish, Founder BiomagScience: When I sat with John him at a diner in Pennsylvania, he was constantly adjusting his sitting position as he explained how bad his back was and how hard it was to drive with the pain. I understood his discomfort as I had an acute back issue for many years until I learned what magnets can really do.
I applied the BiomagScience Advanced Back Circuit Therapy to him and he drove off to North Carolina.I spoke to him the next day after his long drive to see how he was. He was elated about how the Back Circuit Therapy had relieved the majority of his discomfort during the drive.
I talked to him about a couple of weeks later and he told me that he was feeling great, playing golf without pain and added that while he and his wife were packing up the house, they had found a magnetic back device that he had tried years earlier that hadn't worked.
He asked why BiomagScience worked and the device didn't. I explained that the device he had and that the majority of products in the marketplace including bracelets and necklaces were not only designed incorrectly but often caused stress at the cellular level which can build up and cause additional health problems.
The problem is that most manufacturers don't know anything about the physiology of the body's energy fields and the correct magnetic applications to eliminate pain and support healing. Since BiomagScience knows and understands the body's energy fields, its therapy products are properly designed to work.
Regarding the Advanced Back Circuit Therapy, years ago, BiomagScience received a report from a nurse with herniated discs that had rebuilt themselves back to full height after 8 weeks of therapy. As a matter of fact, BiomagScience works so well, that conditions like Acute Lupus go away in 4-6 weeks, long-term chronically ill CFS and/or Fibromyalgia become well again, people with severed nerves heal and start walking again, and the list goes on.
Bone on Bone Herniation with Missing Cartilage/Spongy Tissue
Bone-on-bone herniation missing cartilage/spongy tissue is generally the result of trauma and the body's inability to heal it. It is recommended that the individual with this condition get the Wellness Kit (includes the Back Therapy Kit) to do the Daytime therapy and drink the energized Bio-Negative water to energize the biochemistry to help target the healing site with adequate nutrition for rapid healing support.
If the individual with the back problem is run-down, this can hinder healing. In that case, BiomagScience recommends applying the Advanced Therapy Protocols of the ATACC (Advanced Therapies for Acute Chronic Conditions) so the body's healing functions are operating normally before applying the Advanced Back Circuit Therapy.
Follow the therapy guidelines next: To energize, balance and rebuild the biochemistry PRIOR to Back Circuit Therapy, apply the ATACC protocols on page 8 of the Wellness Kit Pictorial Guide. After the ATACC protocols, the energized and balanced system has shown the reduction of inflammation and support of proper nutritional targeting to provide a normal state of healing for the Advanced Back Circuit Therapy.
The Wellness Kit contains all the Advanced Circuit Therapy Kits and everything necessary for over 180 simple and painful acute injuries, chronic illnesses, and other medical conditions. It is considered by many worldwide as the most important first aid kit to have in the home for those aches, pains bruises, sprains, burns, bites, etc. It is also considered to be the best overall supplemental energy kit for your family's daily wellness. Every home should have one."
---
Back Pain Avoided – still able to play with kids
"Hi Peter,
I have a nice magnet testimonial to share with you.
A couple of weeks ago my family and I were going out of town for a week long vacation. The day before we left, I was at work and we ended up having to move a lot of boxes out of the walk in cooler in a hurry.
We were almost done when I picked a load up wrong and pulled my lower back. I couldn't stand up straight without spasms and pain.
I always carry some magnets with me, so I popped a 2 stack of regulars (negative side down) on the injury immediately, and used oral and topical homeopathic arnica. I slept with a single regular negative magnet on the injury. When we left early the next morning it was still very bothersome. I could stand a little straighter, but continued to experience painful spasms. I hadn't looked over how to do the back circuit therapy correctly, and the magnet book was already packed in the luggage, so I just kept the negative 2 stack on the injury during the 6 hour trip.
As soon as we arrived, I unpacked the book and placed the magnets in the correct position. During the first hour of placement the pain increased slightly, then it began dissipating.
I still had to be careful with my back the next day, but the day after that it was fine.
At that point I was able to do several strenuous hikes, go horseback riding and zip lining, etc. I was even able to do a large tree top ropes challenge course with my kiddos.
In the past this kind of back pull injury took about a week to resolve. I never would have been able to do all those fun things with my kids if that had happened this time. So your magnets helped to save my vacation. Many thanks Peter!"
Love,
Linda
Mom helps skeptical son with back pain
"Yes, yeah magnets! Now that I have good quality magnets and know how to use them correctly (because of your book), I use those things all the time. I don't know what I'd do without them. Your magnets came to the rescue again this week. A few days ago my son decided to emulate his mother. =;-) He picked up some heavy, precariously balanced computer equipment and ended up pulling his back. I immediately placed the back circuit therapy on him, and he's healing quickly. He's no longer skeptical about the benefits of magnet therapy. Many thanks Peter!"
Love, Linda
No more severe backache
"Two years ago, I suffered from severe backache. The pain would occur every time my workload got heavy. One day, I attended a seminar on Biomagnetics held by the BiomagScience Group (now the Foundation for Magnetic Science). Hoping to solve my problem, I borrowed a set of Biomagnets and placed them over the affected area. I waited overnight for the results.
The following day my back pain was gone. I was cured and impressed to say the least. I also drank Magnetized Negative Water to supplement the therapy. From that time on, I haven't complained about my back pain. Now I am really determined to use a whole set, not only for my family, but also to help those who wish to be relieved of any illness."
Mrs. E C.
Chronic back pain resolved
"I have an old nursing injury from lifting patients for years. I was told I would have degeneration to the site and there was nothing I could do. I started a swimming program to strengthen the surrounding muscles but if I sat incorrectly, I would be in pain for months until the inflammation reduced. Now I apply the Super BioMagnets to the area for one day and the pain is gone. Now even when I sit improperly, there is no pain."

C B NJ 3-06
Backache & Stretched ACL resolved:
I'm writing to you to let you know that I have been using your magnetic therapy for four years. 
Some time ago I went with a friend to Trinity county and stayed at her cabin. I slept on the couch and when I woke up I could barely stand up straight. I had brought my bio magnets and put the circuit therapy on my back. Within 45 min. I was able to stand up straight as though nothing had happened. 
I had another experience with the therapy. I was told by my Sports Dr. that I had a stretched ACL on my right knee as it had been bothering me.  I was in a lot of pain and did about a month of physical therapy at the facility. The therapy helped but still had some pain. I immediately started using my magnets and circuit therapy daily on my knee which provided comfort and within a year and a half the pain had subsided. Two months ago I went to see my osteopath doctor for a physical and I had the doctor check my knee and he found the knee to be normal with no injury to be found. Also, I should let you know that before I saw my sport's doctor, I went to an orthopedic doctor who wanted to perform surgery.
I want to thank you for introducing me to the magnets. I feel I know much more on how to use them in my daily life not just for injuries but for non-injuries as well.
You have helped me understand the power of the magnetics.
Yours truly, 
Mike Chavez
Needed back surgery – Amazing outcome
"An amazing outcome – a close friend 60 years old… has had a back problem for many years, has had 2 X discs fused, and was using heavy duty pain killers. His physician said that surgery was the only answer. After 3 weeks of BioMag magic, does not need pain killers and has postponed mid-Sept surgery indefinitely pending further developments.
My friend just returned from Germany. Notwithstanding his spectacular outcome, he was not 100% convinced that the recovery was due to the magnets, but being a good friend, he indulged me politely, ha, ha. Due to possible safety/security concerns of taking the magnets on his flight, he decided to leave them behind.  In his mind he had pretty much recovered anyway and felt he didn't need them any longer. Low and behold due to the stresses of travel, lack of sleep, picking up grand-children, etc., his back pain returned.
On returning to Sydney late last week he immediately applied the magnets again …… the pain was gone by the end of the day We caught up for dinner on Saturday night. There is no more scepticism …. he now agrees the recovery is due 100% to the magnets. Sometimes one miracle just ain't enough 
" 
R. G
Australia
"Hi Peter, amazing results following your much-needed advice for my back problems. 3 years ago I fractured my back in 7 vertebrae; I lifted something very heavy and awkward and as I was then 64 they diagnosed me with osteoarthritis. I found this amazing as I had no warning and actually felt so well in myself. The pain was terrible and the medication the docs offered me, on researching the ingredients, I found that they actually promoted more fractures! Needless to say, I didn't take their meds, nor pain killers but started to use the magnets and soon found the much-needed relief. You also came to my rescue when I suddenly had a very serious attack of anxiousness, for no apparent reason except too much wifi/computer use. The relief I felt, following your advice once again, was so quick and thorough so I just wanted to tell you how grateful I am and hopefully the person who borrowed my Wellness book will soon return it so that I can look up how to do the MET to get my whole system back on a healthy track again, blessings,"
Loren B
"Damage in the neck, cervical vertebra 5,6, and 7. I have caused injury to my neck through years of Aikido training. My left arm, hand and fingers went numb with severe pain between my shoulder blades.  thought I was only sitting wrong and should sit more upright.The condition worsened with sever burning in my left shoulder,arm and hand. I went to see a chiropractor and after two month of treatment , it was the same. I went for x-rays that confirmed the damage. I then went for shock treatment and it gave me some relief, but I had to take zanax to be able to sleep . I started to search on the internet for alternative therapies and then I was guided by some intuition towards what caught my eye. Biomagnetic healing. Well, I ordered the Wellness Kit and followed the whiplash terapy which was recommended by Peter himself. After three days the pain was gone. I could sleep and that is all there is to say about the miracle cure. My thanks to Peter and his team."
Johan V. Taiwan  
Back, Neck Pain Free


"My husband had a really bad back for a long time.. he used the back therapy and is now pain free. He was amazed. I also hurt my neck and could not move it.. very painful. I used my magnets and within 1 hour I was able to move it  and i could feel the pain relief. Thankyou once again. You are a blessing to us."
G.S. Australia
"I wish to let you know that your bio-magnet technology is helping me a great deal. I've been using the bio-magnets for about a month now and I've seen definite results which I want to share with you and your staff.
I started using the magnets for my sciatica condition. I've been wearing the Regulars all day across my back: red on the spine and green 3 inches on either side on the upper hip. I can honestly say that I have hardly felt my sciatica since I started that protocol and I'm really happy because last year I maxed out on my health insurance allowance for the chiropractor and the pain around my sciatica had not gone away.
I do the Meridian Treatment at night for 15 mns. before falling asleep. That helps me fall asleep quickly and also it helps me sleep thru the night. I noticed the first time I did it that I did not wake up until 5:30 A.M. which was fabulous since otherwise I would have waken up at 2:30 and then again every hour. Now I feel so much more rested in the morning!
The Meridian Treatment has also helped tremendously with circulation. My whole life, I've lived with cold hands and feet, all year around. It got to the point where the tip of my fingers and toes were numb. About a week into doing the Meridian Treatment I noticed the feeling coming back to my extremities! That is truly remarkable!
It's very natural for me to share the benefits that I've gotten from the bio-magnets with people and I'm delighted to refer folks to your website.
Thank you for your hard work and dedication to bring this technology to the common people for their healing and ultimately for your help in the healing of the planet. In gratitude."
SM PA

Helped tremendously with lower lumbar spine pain
I have been using Bio-Magnets forever. For my spine, knees, and other parts of the anatomy.
I bought my first kit about 20 – 25 years ago thereabouts and bought my new 2nd kit a little while back.

It has helped me tremendously with my lower lumbar spine pain.
With regards, Fred N., B.C Canada
Chronic Sciatica Pain Resolved – Magnet Therapy

Years of extreme Sciatica Pain resolved with Advanced Back Pain Circuit from – now living pain free
EMF & Sciatica Helped with BiomagScience
"Peter, I have been diagnosed and suffering for 14 years with both Multiple Chemical Sensitivity and Electrical Magnetic Fields. Also, my illness advanced to Extreme-Hyper Sensitivity to SMART METERS IN 2013.
Dr. Stephen McCurdy, M.D./Physicists, Director of U.C. Davis Hospital in Sacramento, CA Occupational & Environmental Clinic, gave my past Environmental Illness's medical records since 1975 a thorough and thoughtful examination and test me in all areas of total fitness both physically and mentally.
His prescription-recommendation was to avoid electrical SMART METERS IF AT ALL POSSIBLE. With great joy, below are my personal satisfaction from my use of the Wellness Kit.
After 1 year of my purchase of the Wellness Kit, finally my current residence allows me limited EMF's safe zones whereby, I still can't sit or stand no more than 15 minutes to avoid painful EMF/RF's jolts.
Consequently, I have been puzzled and skeptical by applying the small magnets every 15 minutes (Initial "Baby Steps" protocol). But, I began from March 5, 2021, to March 16, 2021. On March 7th, I was able to sit for longer periods up to a half-hour and my joints and muscles in my legs were no longer stiff and painful and swollen, and my sciatic nerve problem now allows me to stoop and bend to pick up things from the floor without pain.
On March 9th, to avoid JOLTS of hot and painful EMF/RF jolts to my eyes and upper body in my bed, I moved down to the foot of my bed in the knee to chest position. However the next day [with the Biomagnets], I was able to sleep in my bed from the headboard to the foot of my mattress from 10:00. P.M.to 5:45 A.M.
Then, I remain in my kitchen for 2 hours and made a banana pudding and a large dish of macaroni & cheese. I was so happy that I danced across my living room floor.
Most of all, my capacity to focus and make wise decisions has greatly improved."
Delores. D, Florida
BiomagScience Recommendation
BiomagScience recommends the Wellness Kit.  It contains the A-Z Book/Manual, Pictorial Guide, all the various sized Biomagnets, Water Energizers, liquid Oxygen, bandage and step-by-step protocols necessary for to help resolve over 180 simple to painfully acute injuries, chronic illness, and such medical conditions as Fibromyalgia, Chronic Fatigue Syndrome, Candida, MS, Lupus, Malabsorption, etc.
BiomagScience recommends doing the Advanced Therapies on Page 8 of the Pictorial Guide to help rebuild and revitalize the system to support the healing of any chronic condition, such as an illness or joint repair.
The Wellness Kit is considered by many worldwide as the most important first aid kit to have in the home for those aches, pains, bruises, sprains, burns, bites, or any major health issues that can occur in daily life. It provides the best overall supplemental energy for your family's daily wellness. Every home should have one for better health and increased longevity.