Product Description
Natural Blood Thinner Therapy Helps
Prevent Heart Attack and Stroke

Blood Pressure Reduction Therapy

Thick Blood (Section 1): If you can't exercise much and eat fried and processed foods, it is very normal to have thick blood or what is known as Hypercoagulated blood.
Thick blood is not good for your health. It causes heart attacks and strokes and is common in people with diabetes and other related health issues.
A blood thinner prescription is the first thing a doctor orders after a heart attack or stroke to immediately take the pressure off the heart and circulatory system so it doesn't happen again.
The following shows how BiomagScience therapy naturally thins the blood in just 2.5 hours.
High Blood Pressure (Section 2): The primary cause of high blood pressure is vascular plaque. The following lower Section 2 shows case studies of BiomagScience Circulation Enzymes dissolving the plaque and reducing blood pressure.
Natural Blood Thinner
Section 1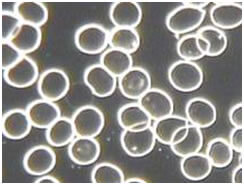 Healthy Red Blood Cells (RBCs) circulating throughout the body do the major work of providing essential elements and eliminating toxins.  The RBCs work by their surface area touching the capillary beds of the soft and hard tissue cells where they deliver nutrition and exchange oxygen for CO2 and other toxins which they carry to the various organs for processing.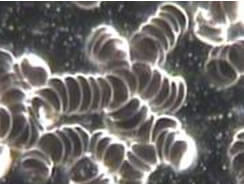 Thick Blood Hypercoagulation is quite common and comes from a diet of fast, fried and starchy foods, lack of physical activity, and not enough water (dehydration) which causes the RBCs (red blood cells) to lose enough electromotive energy that they clump together and stack-up in what is known as the Rouleau (Ru Low) formation
Thick blood is the leading cause of stroke and heart attack because it increases the blood's tendency to form fibrin (a sticky protein fiber) which can lead to excessive clotting in the blood forming inflammation and obstruction in capillaries and the vascular system leading to thrombosis and necrosis [death] of tissue, veins, pulmonary embolism of the lungs, heart attack and stroke; thick blood increases pressure and reduces circulation (flow) and micro-circulation at the end of the limbs which can cause many issues such as painful sores on the feet, darkened black feet, reduced healing, peripheral neuropathy, etc.
Thick blood reduces cellular nutrition and oxygen and it builds up toxins in the cells – both leading to illness and many medical conditions such as arthritis, atherosclerosis, autoimmune diseases, bone necrosis, cancer, cardiovascular diseases, chronic fatigue/CFS, chronic infections, deep vein thrombosis, dementia, depression, diabetes, eye diseases, fibromyalgia, heart attack, high blood pressure, infertility, menstrual problems, metabolic syndrome (stuck cells), migraine, osteonecrosis of hips, knees and jaws, pulmonary embolism, stroke, tinnitus, and varicose veins.
Blood thinners: Since thick blood creates so many problems and often is the cause of heart attack and stroke, anyone who has had a stroke or heart attack is immediately prescribed blood thinners (like Coumadin (Warfarin), Pradaxa, Xarelto, or Eliquis) so that attack or stroke will not happen again.
The possible side effects of blood thinners in small print are scary: can cause bleeding, excessive bleeding, and may lead to death. If you have to stop taking it for surgery or dental work, you are supposed to notify your doctor because stopping the blood thinner may cause a stroke or heart attack. In other words, taking blood thinners is precarious, but hypercoagulation / thick blood is too dangerous not to do something to resolve it.
BiomagScience Provides Natural Healthy Thin Blood
Within hours of applying BiomagScience energy, the Red Blood Cell's energy (Zeta potential) increased to healthy thin blood which now can do its job of providing full nutrition, oxygen and detoxification throughout the body while protecting it from heart attack and stroke.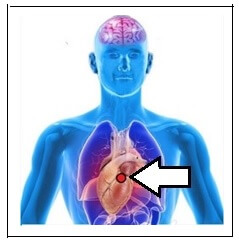 Case Study – The below slides show BiomagScience Energy Therapy changes
Unhealthy Thick Blood into Healthy Thin Blood within a few hours
Thick Blood Sample 1: Live blood cell analysis of a 26 year old male professional with a history of physical inactivity, fast food, lack of water consumption, difficulty sleeping and general malaise. He fasted the night before so the test would not affected by a meal.
The thick (hypercoagulation) stacked blood cells unfortunately show the general downward spiral of deteriorating health and is the reason the fellow has very little energy, feels so poorly and wakes up tired because he cannot sleep properly.
His blood is simply too thick to do its job. 
The small floating specks are a large amount of fats from the individual's fast food diet. Normally fats are cleared from the blood within four hours of ingestion; how-ever hydrogenated fats have been observed to take days; in this case due to the hypercoagulation, may take quite even longer to clear from the blood.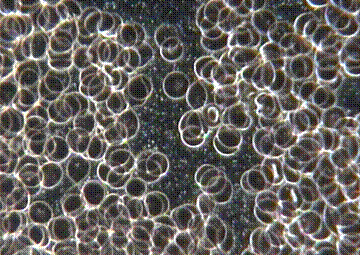 Sample 2: After 30 minutes of BiomagScience Energy Therapy on the sternum, show the stacked blood cells separating as they take on energy.
Medically an improvement in plasma congestion is observed as the RBCs take on more energy, however partial Rouleau formulation continues as well as the fats (specks).
Shown in the picture, the smallest size fat specks are HDL's, medium sizes are LDL's, and the very large fats may be chylomicrons or hydrogenated fats from fast food. Fats enter the body in the Micro Villa (finger like projections in the small intestine that emulsify the ingested fats) into the Lacteal Duct (the Lymphatic system). This is very significant due to the fact that the Lymphatic system houses our immune system and powerful antioxidants that the liver creates.
The fats are then dumped into the Subclavian Vein and into the blood stream. Since the Lymphatic System does not have a pump like the Arterial System; its circulation depends upon some exercise including walking which provides the pumping action of the muscles and deep breathing which changes the thoracic pressure to create movement both in the Lymphatic system as well as the Venous System.
The amount of fats in the blood is significant because it indicates there is lymphatic congestion and as a result, liver and other organs are stressed in a very unhealthy (thick blood) environment that often leads to major illness.
Sample 3: After 2.5 hours of BiomagScience Energy Therapy: The blood has taken on the energy and is naturally thin and the danger of thick blood has been eliminated.
Circulation is has improved and the blood can now do its job of fully delivering nutrition, oxygen while removing toxins. The blood has been thinned naturally normalizing and improving circulation and cellular transfer efficacy.
This Sample also shows the White Blood Cells (WBC's) with increased motility (movement) and the fats have disappeared verifying BiomagScience Energy Therapy supports an immediate and substantial increase in liver, gallbladder and lymphatic function.
The dangerous thick blood is now thin and healthy; the fats distressing the system are gone and the only thing the fellow did was put the magnets on his sternum and drink some energy water.
Conclusion: BiomagScience Energy Therapy
Eliminates Thick Blood Hypercoagulation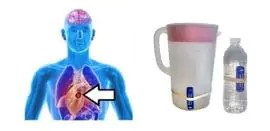 Conclusion: In only 2.5 hours, BiomagScience Energ Therapy changed the dangerous thick blood into healthy thin blood immediately providing an important increase of oxygen, nutrition, and detoxification throughout the body AND relief of lymphatic congestion and organ stress – all very important for good health.  
To achieve and maintain good health and longer life, wear the Biomagnets and drink Energy Water daily.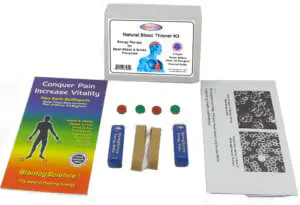 The Natural Blood Thinner Kit – 4 Power Wafers + 2 Water Jar Energizers + detailed instructions. Provides a simple, easy and non-drug therapy for naturally thin blood and increased energy, vitality and wellness.
Reducing Blood Pressure
Section 2 – see kit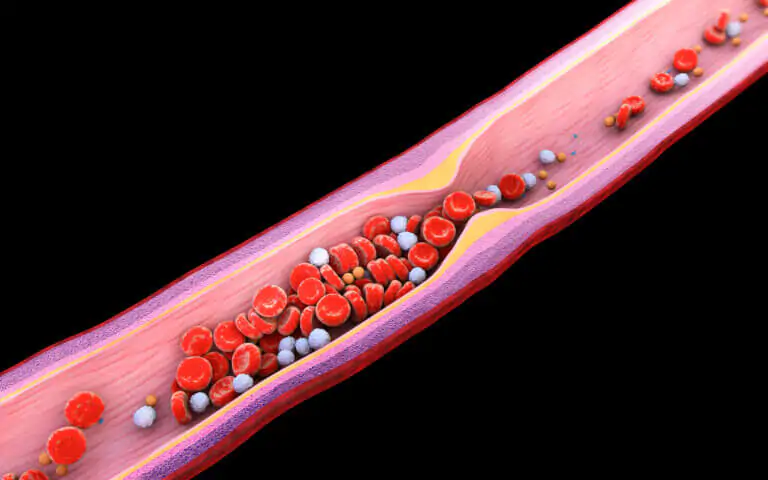 Most High Blood Pressure happens from plaque build-up in the vascular system which restricts the flow of blood and makes the heart work overtime. 
The red blood cells get stuck where the artery narrows at the plaque buildup and the heart has to work harder at higher pressure to push the blood through the buildup.
The extra work and strain on the heart and the vascular system is not good for it and if the blood is too thick, it can cause a heart attack or stroke.
So it is important to make sure your blood is thin.
Dissolve the Plaque and the High Blood Pressure Goes Down
BiomagScience's Circulation Enzymes is an oral chelation (said "kee lation") that dissolves the plaque; normally takes 2.5 – 3 months of daily supplementation to reach lower blood pressure. 
The following are several cases of how the Circulation Enzymes work
A 72 year old man with high blood pressure around 160 over 129 for over 10 years, did the Daytime therapy, Energy water, and the Circulation Enzymes for 3 months and his blood pressure went down to 112 over 73.
He no longer needed his blood pressure medicine. 
——————————————————————————————–
A woman in her mid-50's, had arterial stenosis which is calcification of the aorta in her heart. Her blood pressure was high and her circulation was so bad that her feet were dark colored with sores and she had trouble walking.
After 3 months of BiomagScience therapy, Energy Water and the Circulation Enzymes, her blood pressure was normal, a cat scan showed the calcification in her heart was gone, and her feet were pink and healthy and she could walk again. She really got her life back.
BiomagScience's Chelation Enzymes and Natural Blood Thinner kit helps reduce blood pressure and naturally thin the blood for a longer living, healthier life.
Get the Blood Pressure Reduction Kit today
——————————————————————————————–
BiomagScience recommends
The Wellness Kit which provides everything necessary for the daily energy supplementation for naturally thin blood and daily wellness. It also provide all the required information, instructions and magnets for over 180 A-Z simple and painfully acute injuries, chronic illness and other medical conditions.  
The Wellness Kit is considered by many worldwide as the most important first aid kit to have in the home for aches, pains, cuts, bruises, sprains, burns, bites, etc. It is also considered to be the best overall supplemental energy kit for your family's daily wellness. "Every home should have one."